Our Mission
To continually educate ourselves and our clients

To live in beauty

To honor truth

To apply knowledge and imagination in all we do

To uphold exceptional standards of customer service
Your Guarantee
We promise to treat you as we would like to be treated: fairly, with reliable service, value and attention to detail.
We will neither harm the environment or your property and will use only high quality, non-toxic, environmentally safe products in your home or business.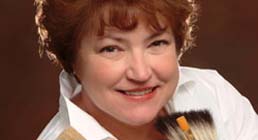 Linda Wells, founder of WellDesigned Art has lived in the Dallas area for more than 20 years. Linda has done extensive research in recreating old world paint finishes and is devoted to providing quality, authentic artwork., She continually updates her skills, training both in Europe and domestically. Linda has a dedicated following from her canvas and three-dimensional work, as well as her custom painted murals and specialty finishes. Her clients, found throughout the US, include private patrons as well as corporate clientele.


Member of:
Frisco Chamber of Commerce
Society of Decorative Painters
Frisco Art Association
Visual Arts Guild of Frisco
International Decorative Artisans League
WellDesignedArt specializes in:
WellDesignedArt provides:
Creative Talent
Structured Business Skills
Quality Workmanship
Attention To Detail
Reliability
Superior Customer Service